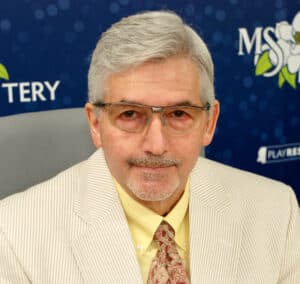 With a career in the lottery industry beginning in 1987, Jeffrey L. Hewitt was selected by the Mississippi Lottery Corporation's Board of Directors to serve as the corporation's second president, beginning July 1, 2021.
Hewitt previously represented the MLC in the role of Senior Vice President of Sales and Marketing where he began as an original start-up employee in June 2019. He supervised everything from retailer recruitment, brand establishment, build-out of lottery headquarters to new product/instant ticket development.
Before joining the startup of the Mississippi Lottery, Hewitt performed duties as the Interim General Manager for the Illinois PMA Project with Intralot. He provided direction as a liaison between the company and lottery executives, managed terminal conversion projects and interacted with legislators to promote legislative efforts beneficial to the lottery.
Hewitt began his career as a Lottery Sales Representative in Florida and has consistently advanced and expanded his industry knowledge. In addition to the Florida Lottery, he has held various roles with lotteries in Georgia, Wyoming and West Virginia.